Printer Friendly View

Taylor, FL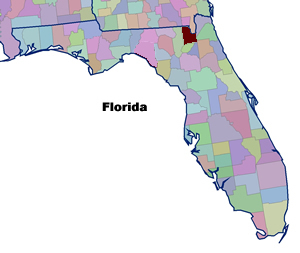 Setting: Taylor is a small, unincorporated community located in Baker County in North Central Florida. Surrounded by federal, state, and private industrial forest lands, Taylor is relatively isolated, though Jacksonville is only a 45 mile commute to the west/southwest. Since the Civil War, the area has been home to many generations of the Taylor family, though recently the community has seen an influx of new residents from Jacksonville and elsewhere. The County estimates there are approximately 425 structures and 1,500 residents in the Taylor community area.
Land Ownership: Taylor has a land area of 1,700 acres within the 374,528 acres of Baker County, about 92% of which is forested. The community of Taylor is bordered by the Osceola National Forest to the southwest, the John Bethea State Forest to the north and east, and Rayonier industrial timberland to the Southeast. Increasingly, private industrial forests in this area are being sold to real estate developers and public land management agencies.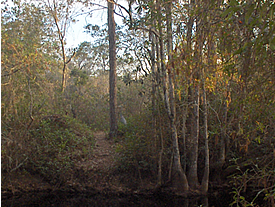 Vegetation Type: The vegetation in and around Taylor is known as the "flatwoods", dominated by a mosaic of pines, punctuated by swamps in lowland areas. Pine forests are the historic longleaf pine or cultivated slash pine with an understory of palmetto or other thick brush. There are occasional patches of deciduous hardwoods, such as oak, present in the area. Recently, stands of young longleaf pine have been cultivated and regenerated in the Taylor area to replace older stands killed by wildfires. Industrial forest pine plantations are managed with relatively open understories.
Fire History and Occurrence: Wildfire is a tangible aspect of life in the community of Taylor. In the past 10 years, three major fires of between 4800 and 60,000 acres have threatened Taylor, though there has been no major structural damage. Managers in abutting federal, state, and industrial forest rely heavily on prescribed burning as a management tool, though escaped controlled burns are a danger and were a source of one of the large fires that impacted Taylor, along with lightening strikes, escaped trash burning, and arson. Wildfire occurrence, however, tends to be cyclical, coinciding with drought. Community members report that lack of precipitation has been an issue in Taylor recently.
CWPP Process: The Taylor CWPP planning group, consisting of agency and industrial representatives, convened with a common understanding of wildfire and a history of working together. They collaboratively conducted a community risk assessment of Taylor, which helped to inform their projects. Through four meetings, they created a CWPP that focused on fuels mitigation, enhancing suppression through upgrading water resources and fire-fighter training, and community education. After the plan was created, the CWPP team held a meeting in Taylor where they discussed the plan with the community.
Participants: The Taylor CWPP was initiated by Florida Department of Forestry officials in response to a call from state and federal managers for the creation of CWPPs in Florida. Planning participants included a DOF Wildfire Mitigation Specialist, a DOF Forest Area Supervisor, a USFS Forester from the Osceola National Forest, the Baker County Fire Chief, a representative from Rayonier Timber, and representatives from the Sheriff's Office and Emergency Management. Both the Captain from the Taylor Volunteer Fire Department and a Pastor from a local church were integral in bringing the plan to the community.
Status: As of March of 2007, participants in the Taylor CWPP had begun construction of a fuel break around the perimeter of the community. This line will ultimately cross state, federal and private industrial forest land. The CWPP group has also held a "Living on the Edge" educational workshop for members of the community and continues to train wildland fire-fighters in the county.