Printer Friendly View

Lake County, MN
Setting: Lake County is located in the Arrowhead region of Northeastern Minnesota. This county is bounded on the north by Canada and the south by Lake Superior, which is where many of this area's 11,058 (2000 Census) residents are concentrated.
Land ownership: The U.S. Forest Service estimates that 89% of Lake County is forested, much of which is encompassed by the Superior National Forest and the Boundary Waters Canoe Area Wilderness. Seventy-eight percent of the 1.34 million acres (2,137 square miles) of Lake County are publicly owned; 56% is federal land, nearly 10% is state land, and 12% is county or municipal land.
Vegetation Type: A number of ecological forest types are represented in the Superior National Forest and Lake County, including aspen-birch-spruce fir, white pine-red pine, jack pine-black spruce, sugar maple, and lowland conifer. Clear cutting and a legacy of fire suppression has led to the replacement of pine and other northern hardwood stands by aspen and aspen-birch in some areas.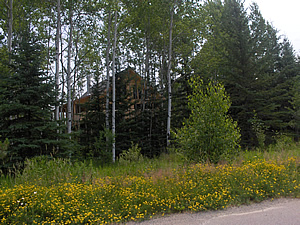 Fire History and Occurrence: In Lake County, increases in fire frequency generally correspond with severe droughts that occur in 20 to 30 year intervals. The primary sources of ignition of wildland fire in Lake County are debris burning, lightning, escaped campfires and railroad fires. The 1999 windstorm and resulting blow down has increased the fuel load in the north and continues to shape wildfire policy and planning in the area.
CWPP Process: The CWPP planning group used a collaborative process to divide Lake County into 16 community Wildland-Urban Interface areas. The committee then used a risk assessment process to rank these WUI areas, and ultimately chose three high-risk WUI areas around which to focus their initial efforts. The Lake County CWPP is an example of inter-agency and inter-governmental collaboration in a rural area dominated by tourism.
Participants: The CWPP process was initiated internally by Forest Service representatives and the Lake County Commissioner's Office. The planning process was highly organized and was facilitated by the Partnership Coordinator and a Fire Planner for the Superior National Forest. The Lake County Commissioner served as the head of the CWPP Committee. The following agencies were represented during the planning process: U.S. Forest Service, Minnesota Department of Natural Resources, Lake County Government CountyCommissioner, Land Commissioner, and Sheriff's Department/Emergency Management, and the Local Volunteer Fire Departments.
Current Status: In May 2006, local fire chiefs, the Lake County Commissioner and the Minnesota State Forester signed the final draft of the CWPP document. The planning group has appointed a committee to oversee the implementation of the plan .