Printer Friendly View

High Knob Owner's Association- Front Royal, VA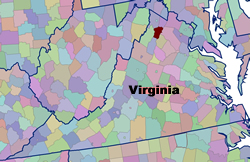 Setting: High Knob Owner's Association (HKOA), a gated subdivision of about 400 homes, is located on the outskirts of Front Royal in Warren County, Virginia, approximately 65 miles west of the Washington, D.C. Front Royal serves as the gateway community for the Shenandoah National Forest but is also a reasonable commute to D.C The High Knob Owner's Association has a mix of seasonal and permanent residents, but within the last few years, many more people are moving out to this mountain subdivision for permanent residence. Through yearly resident fees, High Knob supports a clubhouse for neighborhood activities and staff to help with business and land maintenance.
Land ownership: Warren County is 136,768 acres with the majority of land privately owned. However, about 15% of the county is federally managed, due to the nearby National Park and George Washington National Forest. The Community Wildfire Protection Plan for High Knob focused specifically on private land within the subdivision boundaries.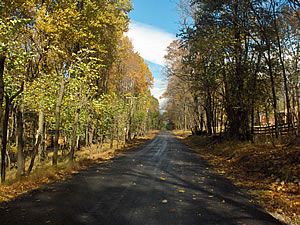 Vegetation Type: The vegetation type within High Knob consists of dense hardwoods with scattered conifers. In addition, there is a large amount of downed fuel and heavy undergrowth in some areas. The community is located on a mountain side, with homes arrange on a steep gradient to the top of the mountain.
Fire History and Occurrence: According to the plan, the area around High Knob has a relatively low frequency of wildfire occurrence, but there is a buildup of fuels on private property. There are also major concerns regarding access/egress and emergency response due to the winding, steep roads, one main entrance, and insufficient turnaround areas.
CWPP Process: High Knob is an example of a subdivision-level CWPP. The Virginia Department of Forestry (DOF) did an initial assessment of the community and contacted the HKOA Board and staff. Once the community was brought into the process, a steering committee was formed to develop the plan and outline steps to reduce fuels and improve access within the community.


Participants: The majority of participants in High Knob's Community Wildfire Protection Plan were the homeowners themselves.
Participants included:
• Virginia DOF Mitigation Specialists
• HKOA staff (business manager, facilities manager)
• HKOA Association Board members
• Warren County Administrator (also a resident)
• Linden Volunteer Fire Department Chief
• Various homeowners
Status: High Knob received designation as a Firewise USA community as a result of this plan and the subsequent implementation. As of Fall 2006, the residents of High Knob have hosted wildfire preparedness educational events, and implemented fuels reduction on private lands on the upper half of the mountain. In addition, reflective house numbers have been ordered for almost half of the 400 homes in the community. To improve access problems, roadways have been trimmed back and insufficient turnarounds have been designated for widening and improvement.